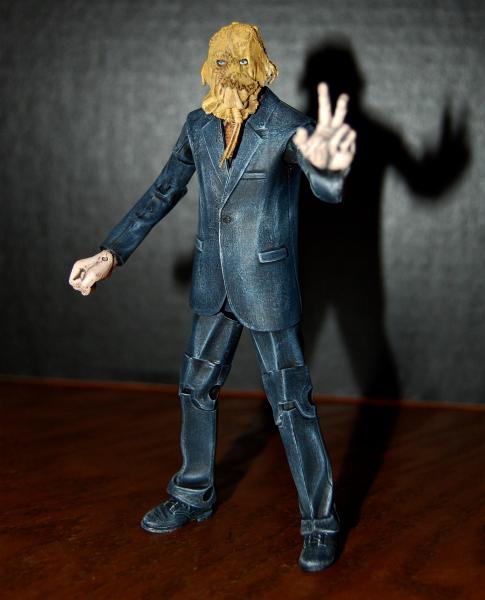 Hey!

It's nice that Mattel is offering a Scarecrow in his suit, but it just doesn't seem worth the $15 price tag. I had a spare Gotham City Thug and an extra Scarecrow head and thought I might as well make my own for free. :)

The clenched hand is from a SOTA Street Fighter figure, (Remy, I think?) while the spraying one is from a "Star Wars: Unleashed" Count Dooku. I modded the jacket to look loosely-buttoned.

Once the figure was painted, I gave him multiple coats of chalky acrylic paint so he'd look like he'd been in his drug lab all day. Note the extra white around the cuff of his "shooting hand."

All in all, I'm very happy with this piece. He's not too exciting, (kind of like the character) but the new hands and unique job paint set him apart from the other figs on the shelf. Props to my boy Matt "Iron-Cow" Cauley for doing it first and better! Where my Bruce Wayne supposedly inspired his, his TDK Scarecrow definitely got the wheels turning for mine!

Tell me what you think, and be sure to check out my updated Fear Gas Batdemon!