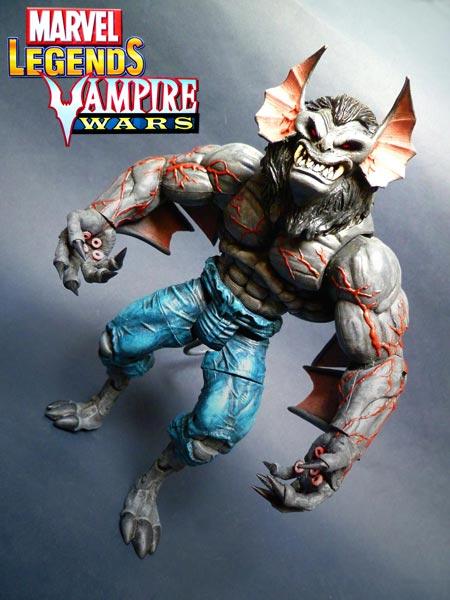 "Once able to control his vampyric nature, Michael Morbius has mutated into a darker version of his former self! Now wanting to create a world entirely of his own kind, Morbius begins his plan to take over New York City! With only Blade the Vampire Hunter and Spider-Man to stop him, Morbius builds his vampire army in preparation for the Vampire Wars!"

Released in 1996 by Toy Biz the Spider-Man: Vampire Wars figures loosely followed the Animated series and rendered the characters of Blade and a recently mutated Morbius as they appeared in the cartoon at the time. Other figures were a flight of fantasy beyond the animated series and seemingly dreamed up by Toy Biz. Fast forwarding 14 years, for this competition I decided to take the three main figures from that series and give them a modern, Marvel Legends style with all the articulation and paint treatment of much more modern figures.

Base figure is an ML Incredible Hulk. Lower legs of a Dr. Who Werewolf and head of A LCBH BAF Pitt. Ears from the original Morbius Unbound figure. Wings are craft plastic. Detailing sculpted with Apoxie Sculpt. Painted with Citadel paints.