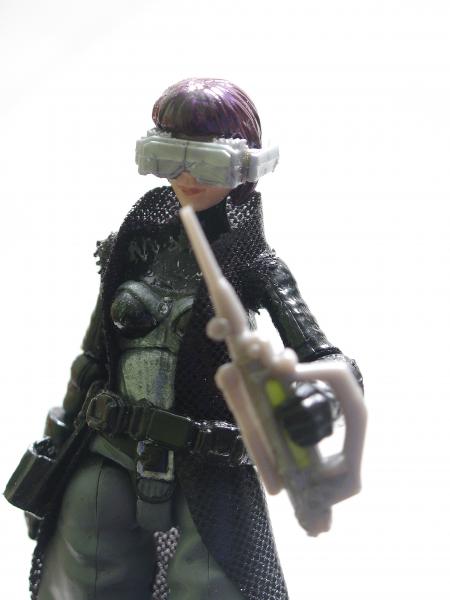 Violet is made up of part ROC Baroness, ROC Destro, and part Star Wars female pilot. Her "Lab Coat" was a trial and error kind of thing. It was the first one I cut and It turned out to be perfect.

Onto the background.

After Dr. Claw lost his right hand, he used his wealth and power to personally search for someone who could help achieve what he wanted, someone to help restore his severed hand and to perfect the symbol of his empire. Enter Violet, Scientific Engineer of robotics and follower of the occult. A perfect combination for what Claw was after. She was able to replicated the viral nerves in this hand and increase the strength up to 10 fold.
Also using the newly discovered Nano-Mobots was able to give him a transforming ability to replicate any weapon on his right hand. She was able to help Claw strive and nourish his terrorist goals and build an empire of Evil. She continues to serve under M.A.D as Dr. Claw's personal assistant and adviser.