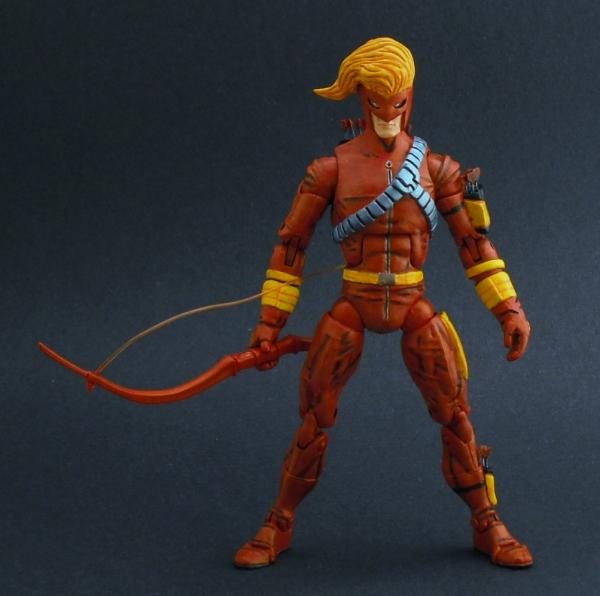 Taken under the wing of Taskmaster to imitate the real Hawkeye, Jagged Bow is just 1 of 3 deadly assassins sent to kill Spider-Man and Solo. Agile and very skilled at archery, the Jagged Bow proved he was an imposter that could hold his own until…well…he got knocked unconscious by nunchuks thanks to Solo (Amazing Spider-Man #367).
Jagged Bow:
-HML Torch head, pretty much fully sculpted
-Longshot body,upper arms, lower legs
-lower arm section (FF Movie Reed), Dr. Who space suit gloves/hands
-Weapon X calves down
-Styrene arrows, LOTR backpack, and anything else unmentioned was probably sculpted on

Jagged Bow has been made to look as close as possible to his "inside" comic book counterpart from his side arrow pouches and backpack to each individual arrow. He has 30 non-removeable arrows in total and each individually detailed. I say "inside" because the 3 assassin characters had different color schemes on the cover art as opposed to what they really looked like inside the book, which is what I chose to make him and his teammates resemble.