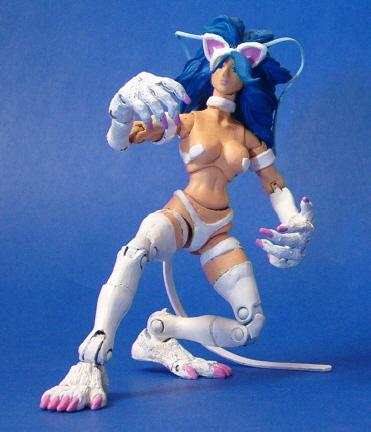 Felecia is one of the projects I've been wanting to do for awhile and since I caught up with my work I got to finish her. Felecia is another character from the CAPCOM universe who started off in Darkstalkers but has also shown up in such games as CAPCOM fighting evolution and the ever classic Marvel Vs CAPCOM.

Heres a list of what shes composed of:

Head - Cammys face attached to XMC Storms hair, the hair was slightly modded with sculpt and the ears and bangs are sculpt, the hair ribbons are Sinister cape.

Body - Her body is from Psylocke with a chest enhancement and sculpted fur strips

Arms - The upper arm is from Cammy while the forearms are from Wasp with Manwilfs hands

Legs - The thighs are Psylockes with sculpted fur. The calves are wasps with Manwolf feet.

Lastly the tail is a part of Sinister cape.

Lots of work but she came out awesome and is now part of my CAPCOM collection!!