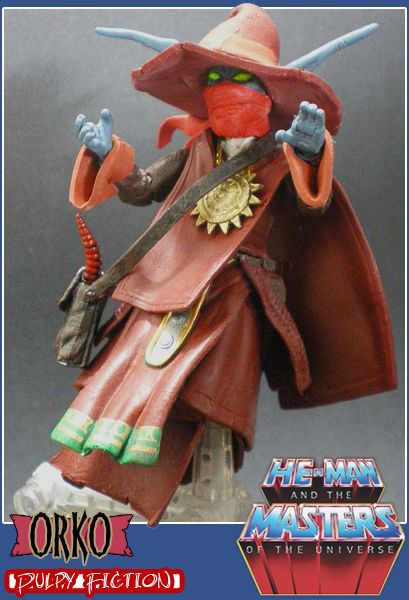 This figure was inspired by Madtinker76's Orko, which proved Orko could be done cool! Leaving me to want to the mystical mage version I tried here. Thanks Madtinker!

This was part of my entry to the Legendary riders contest, but none of the photos really focused any of the figures individually, so I thought I'd give him his own submission to the site, as I actually have a mini flood of M.O.T.U. customs to post over the next few days...

Recipe
Base figure was a Lord of the Rings Frodo, which is unknown. Sculpted head and hat, altered fingers (for only three digits). The eyes had some glow in the dark paint added into the mix to help accentuate them under that big hat. Random fodder accessories for robes and cloak. Wrarrl's purse for Orko's "bag of tricks"