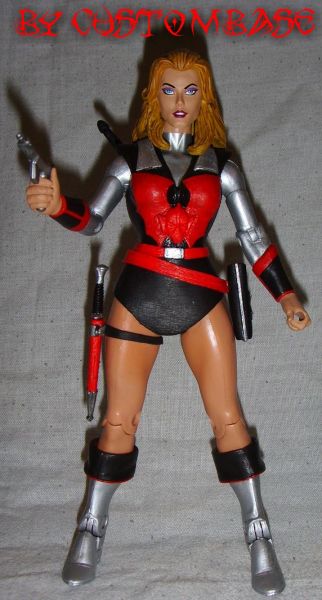 Hi guys me again, This is my take on Force Captain Adora, now I have always thought that it would be kind of cool if when Adora became She-Ra Hordak and Shadow Weaver would just create a new Force Captain using Adoras stored DNA.
I have seen a consept pic for FC Adora on the net and a custome that had been made of it but I just hated the design and the figure was sloppy with a bad paint job so I have made this figure from mt own design based on the DNA thing.
Now I have stopped going on all I did was sculpt the bat onto her dress, I sprayed her shirt and boots silver and added a sword, dagger and sheath.
The dagger was attached by making a hole in her leg for the peg on the sheath and the strap from a hobbits bag was added. I gave the hair a wash to darken it and I also darkend her make-up to give here a darker more evil look and then painted every thing but her skin, she came out looking exactly how I pictured her.
Please feel free to tell me what you think.