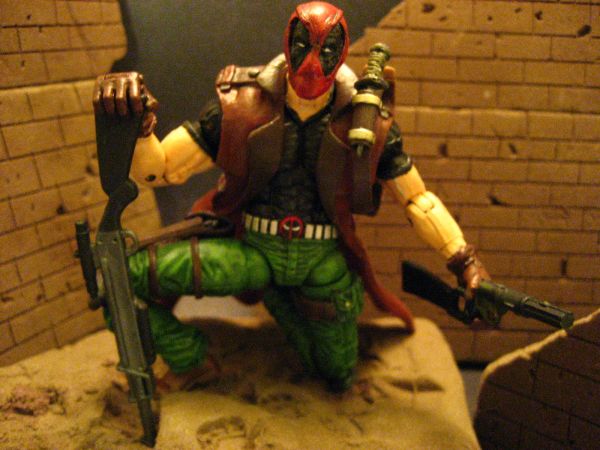 I havent done a deadpool yet, so I figure I would do one, well kinda, lol.
Items created:
-Deadpool head
-Gloves
-Upper torso utility harness.
-Dagger
-Knee pads
-Leg straps,
-Shirt collar, sleeve ends.
For the face I used a xmen the movie magneto, believe it or not! The jacket was taken from xmc gambit, weapons are from random ml figures. Knife pocket/gun holster from 2pak punisher. I fully repainted the figure, even tho I used most of the same colors from logan, I wanted to give it a different finish. Mostly dry brushing on orig colors. Super durable paint, no rub joints, removable head so that harness comes off. This was a project to take a brake from my numerous requests. I used epoxy sculpt on all my additions, plus parts from other ml figures. Painted with citadel paints

Weapons:
Dagger
Silenced handgun
Grenade launcher
Long range shotgun with scope.