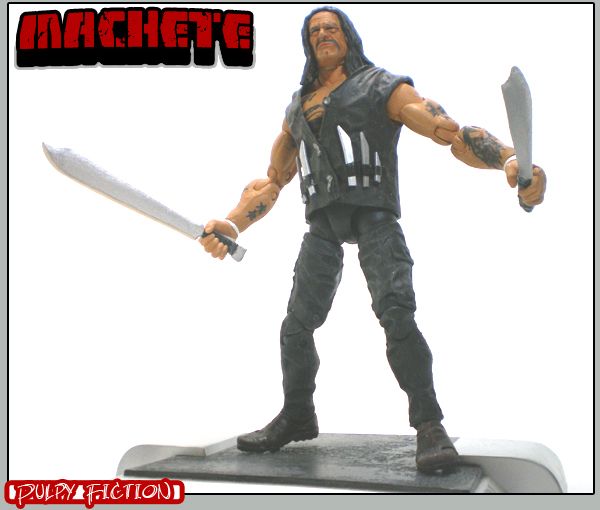 Machete!
After being betrayed by the organization who hired him, an ex-Federale launches a brutal rampage of revenge!

If you haven't seen this deliberate campy craft-work of director Robert Rodriguez, DO IT! It's an expansion of a fake trailer that was released together with Rodriguez's and Quentin Tarantino's 2007 Grindhouse. Machete continues in the B movie and exploitation style of Grindhouse. It's a hilariously action packed awesome film!
Obviously it's clear why I was inspired to make this figure!

Recipe:
Head original sculpt
TNA Wrestler Torso and hands
Hasbro M.L. Wolverine arms
A.O.A. Wolverine CROTCH
Spider-Man 2 Doc Ock legs
A.O.A. Sabretooth Feet
The vest is from another tna wrester's long jacket-cut and repainted
Machetes scratch built
The tattoos are all as accurate as I could get, and the one on the chest is done in it's entirety, for those of you who haven't seen it, it's a woman with a sombrero on.

Thanks a lot for the views!