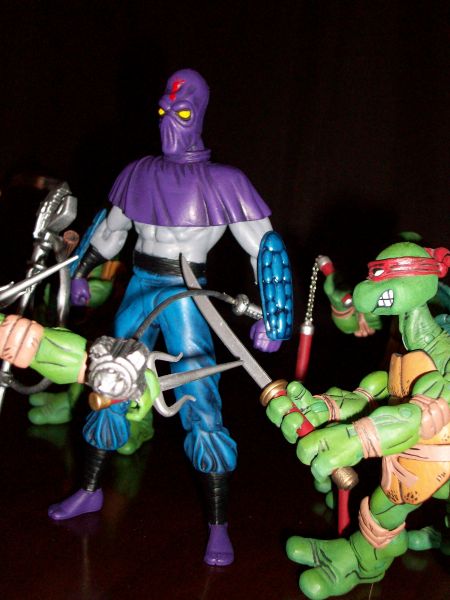 " You call that a Foot Soldier? This is a Foot Soldier!"

I had Mask of Tengu Batman standing around for a while, really thought he was good for nothing until...I thought of this...

Took an old Foot Soldier Head and Wrist Guards, transplanted to this ninja-ish Batman. Then, Classic Foot Soldier, that can finally hold his own against the Turtles! Wouldn't it be cool if Neca made a box set of these to gang up on your turtles? Also repainted his old school weapons boltgun metal.

The Paints - Spray Paint Skull White - Base of Codex Grey, Liche Purple, Mix of 3 Blues Regal, Enchanted, and Fenris Grey- Wash of Asuremen Blue and some custom inks -

Highlights with chainmail and finally a glaze on the pants and hardcoat gloss on his guard plates. Sunburst Yellow to the eyes and a dot of Golden Yellow in pupils. I managed the blood red foot symbol first try. It wasn't AS simple as it looks. Sculpted the head on and wrist guards, the paints took place over 3 days and 3 nights.

Members of the " Foot " were kicking @$$, way before members of the " Hand "