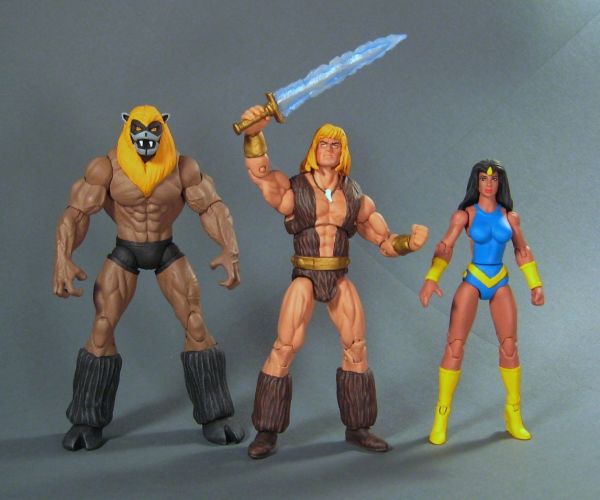 "Demon dogs!" "Lords of light!" "Ahhhhee"
If you don't remember Thundarr, you likely aren't a child of the 80s. Before Blackstar or He-man hit the airwaves, another barbarian warrior ruled Saturday mornings, paving their way. Thundarr borrowed heavily from all the popular fantasy, horror and sci-fi of the arly 80's and blended them into something kids like me couldn't resist. Imagine Conan running around in a Road Warrior, post apocolyptic future weilding a lightsaber - plus throw in an exotic sorceress and faithful Chewbaca-like companion and what's not to love? WB finally made all 21 episodes available on DVD - check it out.

I saw Stocos28 had done something similar with the mu 3 3/4 figures and wanted try my own rendition. Doc Sampson provided the base. I used sculpty to create the fur tunic, arm bracers and transparent sculpty for the "sunsword". Hope to get around to Ookla and Ariel soon.

1/17 UPDATE - finished the whole gang, see new pics...