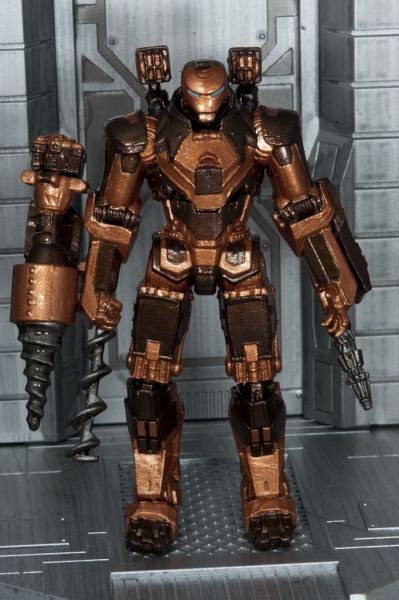 This is based on the Subterranean Iron Man figure from the first movie toy line.

I've made a few modifications from the first incarnation however.

Shoulder mounted work lights
Interchangeable medium bore drill (right wrist)
Interchangeable small bore drill (left wrist)
Main drill is powered by its own arc reactor

Non custom modifications include:
Heavy crush resistant armor
Increased servo strength in each joint
Atmospheric purification and extended internal recycled oxygen life support system
Spark resistant coating to armor
Tunneling repulsors
Four anti grav disks replace standard boot jets.

Publicly, this armor was created to preform rescue operations below the earth's surface and fight villains such as the Mole Man in his own environmental.
However, this armor was instrumental in tunneling out the inside of the mountain that would be come Tony Stark's hidden base of operations which include his lab and his famed Hall of Armors. (My dio that is in progress).