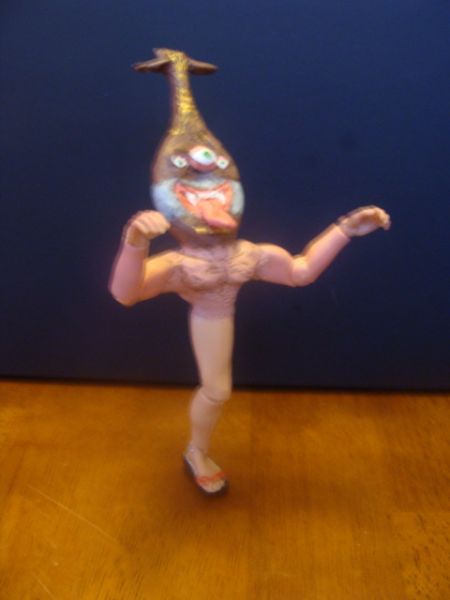 | | |
| --- | --- |
| Custom #: | 26839 |
| Name: | Biwa-Bokuboku(Haunted Asian Lute) |
| Custom Type: | Action Figure |
| Toy Series: | Mego |
| Creator: | Yokai-John |
| Date Added: | January 18, 2011 |
| Base Figure: | Mego Type One Leg and CTVT Arms |
| Height: | 5.00 inches |
Tsukumogami (付喪神, "artifact spirit") are a type of Yokai (Japanese monsters and or spirits). According to the Tsukumogami-emaki, tsukumogami originate from items or artifacts that have reached their 100th birthday and thus become alive and aware. Any object of this age, from swords to toys, can become a tsukumogami. Tsukumogami are considered spirits and supernatural beings, as opposed to enchanted items.The most well known Tsukumogami are the Obake-Kasa(Haunted umbrella,my first tsukumogami action figure),the Bake-zouri(haunted straw sandal),the Chochin-obake(haunted Paper llantern),and the Biwa-bokuboku aka Biwa-yanagi( a Haunted Asian lute).
Here is my latest Tsukumogami,The Biwa-bokuboku.
Biwa-bokuboku or Biwa-yanagi(haunted Asian Lute) ingredients:I sculpted the Biwa from clay and attached to an original Mego type 1 leg(the left leg that went with the leg I used for the Chochin-obake)which I sculpted on a Geta(Wooden sandal)and a chest,stomach,and Oshiri (butt)from clay.For the arms I attached a pair of CTVT arms I had in the parts box.I painted all sculpted parts with acrylics and sealed with mod-podge.