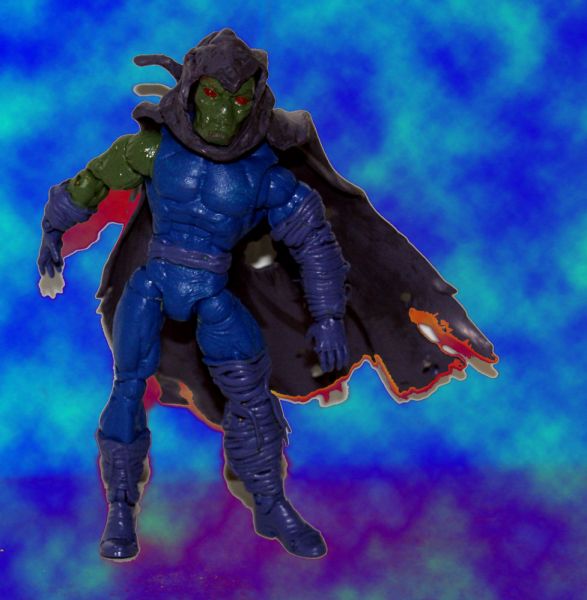 | | |
| --- | --- |
| Custom #: | 27975 |
| Name: | Sleepwalker / Sleep Walker / Sleep-Walker |
| Custom Type: | Action Figure |
| Toy Series: | Marvel Legends |
| Creator: | spider-man59 |
| Date Added: | March 6, 2011 |
| Base Figure: | Unknown Head / Judge Dredd Body |
| Height: | 6.00 inches |
Found this figure at the flea market (3rd picture), don't have any idea who he is or from what toy series .Thought he had the perfect head for Sleepwalker, used a Judge Dredd body and a Hobgoblin cowl and cape. The rest is Testors and Citadel paint. Comments and suggestions welcomed, thanks Lee.

The Mindscape: the dimension which borders on the minds of all sentient creatures. The evil Mindscape entities often seek to enter the minds of sentient beings and drive them mad. Protection comes from the Sleepwalkers, other entities of the Mindscape sworn to prevent the evil beings from entering the minds of innocents. Sleepwalkers are guardians of the Mindscape-- they apprehended beings that invade the sleeping minds of humans. One of these guardians was tricked by his long time foe known as Cobweb into entering the mind of one individual, New York college student Rick Sheridan. The two fought within Sheridan's dreams, but when Cobweb left, the Sleepwalker found himself trapped.

As the Sleepwalker tried to leave Sheridan's mind, he found himself appearing in Sheridan's dreams, or, alternatively, into Earth when Sheridan was asleep. At first, Sheridan believed that the Sleepwalker was just a character in his dreams, until watching the evening news and seeing a report about an attempted robbery. The robbery had been broken up by someone who, according to a police sketch drawn from the description given to them by eyewitnesses, looked exactly like the being in Sheridan's dreams. Sheridan decided to avoid sleep as long as possible, in order to avoid releasing the being again.