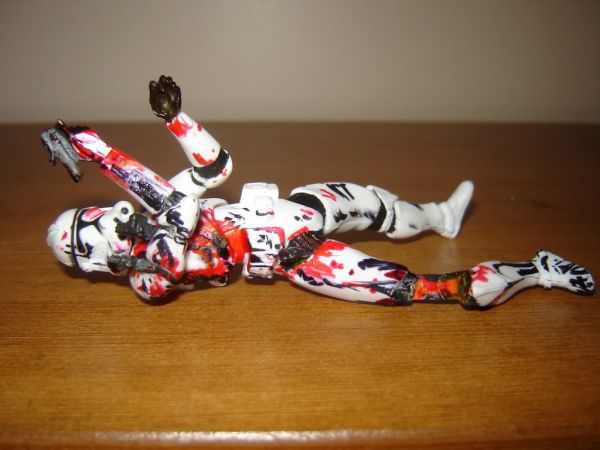 | | |
| --- | --- |
| Custom #: | 28125 |
| Name: | Mortar-Damage Clone Trooper |
| Custom Type: | Action Figure |
| Toy Series: | Star Wars |
| Creator: | mr_mxyzptlk05 |
| Date Added: | March 14, 2011 |
| Base Figure: | Ep III 3-Pack Prone Clone Trooper |
| Height: | 3.50 inches |
"War is Hell" as this poor clone found out. Battling in one of the numerous engagements in the clone wars, this poor soul found him self at ground-zero of incoming droid atrillery. Not just damage from the blast, but shrapnel imbedding itself deep in his armor, and seeming to find every weak point. Wether he lives or dies, one thing is certain, this clone has seen the end of the war.

I just had too many of those 3-pack troop builder clones, and there's only so much you can do with a Trooper in the prone position. Cut off his leg,a nd reattached with a rubber band simulating the bit of remianing flesh, cut his gun into pieces for the shrapnle effects, and covered him in blood and scorch marks. THis is one fight he's not walking away from.