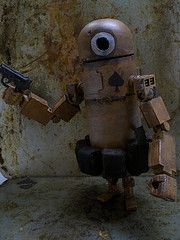 I love wwr but the figures are ridiculously overpriced so I made my own to go with 1/18 scale figures.
The body is the tip of a whiffle bat, the arms are various lego parts and transformer hands, guns are modded 1/6 scale, and the belt is removable with velcro and has a holster for the magnum.
After many paint washes I got the worn texture wwr figures have.

hope you like.