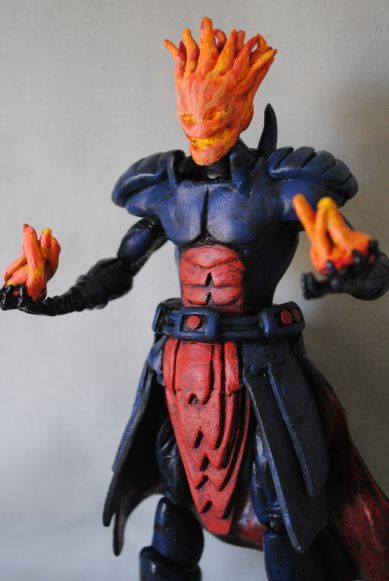 I wanted to make a Dormammu and in my research came across the new Marvel vs. Capcom 3 redesign; I had to do it.

Recipe:
Head - LCBH Wrrarl
Body - MS Mephisto
Cape - Black Panther

I started with a Marvel Select Mephisto, which had the appropriate height and went from there. I bulked him up a bit with some sculpting which I did carefully in layers. The skirt/cod-piece thing were the hardest parts. 75% of the skirt flap is foam with the other 25% being clay sculpted to match the upper part. The flowing cape part is the lower half of a Black Panther cape. Finally, the head is just a carefully resculpted Wrarrl head with a widened mouth.

This guy was quite the challenge, but I had a ton of fun doing it!