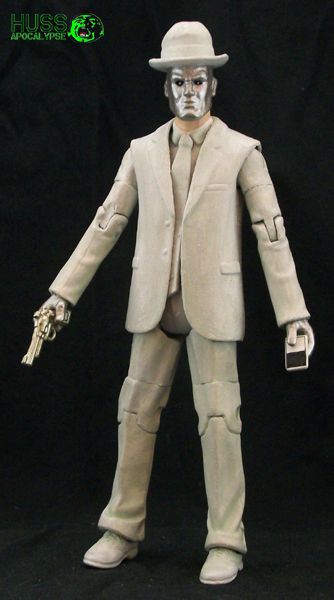 He had one room above a thrift store
He had a trunk of books by Ayn Rand
He was short sighted and reclusive
Resisting pleas to take his photograph
He drew a superhero comic
He saw the world in terms of black and white
He said, "A day's work, for a day's pay."
That is our one and only right.
He takes a card and shades
One half of it in dark
So he can demonstrate to you just what he means
He says, "There is Black
And there is White
And there is Wrong
And there is Right
And there is Nothing
NOTHING
In between."
That's what Mr. A said.
-Alan Moore

This is the Steve Ditko character that inspired Alan Moore to create Rorschach for the Watchmen.

Head - TRU 2 pack Lex Luthor
Body - Movie Masters Joker Thug
Fedora - modded DC Direct Zatanna
Calling Card - from McFarlane X Files Scully
Pistol - not sure
Tie - from WWE Stevie Richards figure when he was in his pro-censorship period

Thanks for looking!