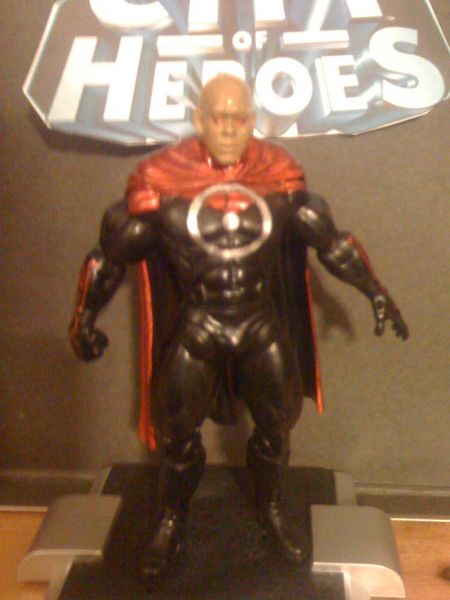 Apologies for the blurry pics. All I had was my Iphone. Next pics will be better quality. This is my first custom EVER, so be gentle :)

"Usur Ro, the last living survivor of Solairis Prime, came to Earth and was later named "The Mighty Solairis!"

This is a custom figure of a character a friend of mine plays on the Virtue Server on City of Heroes, in the super group "The Union Supreme".

The base body is a Batista from the Deluxe Aggression series. Feet are a CM Punk from the same series. Head from another Jakks Pacific Wrestler (no idea what his name is..)

Cape is from DC Direct Supernova from the 52 series.

Chest symbol is sculpted.

All paints are Citadel and Tamiya. Metallic hues ( including Sol's eyes) are Mithril Silver Citadel paint, with Tamiya Clear Red painted over. Dull coat sprayed over to prevent paint rub.

Thanks for looking!! I look forward to your feedback!