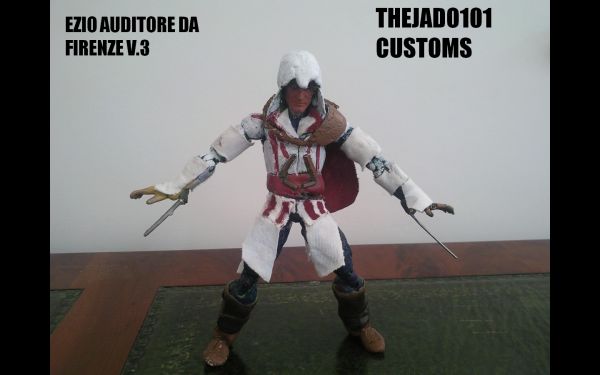 today I bring to you Ezio V.3 from assassins creed 2. I won't bore you with the backstory so I'll get straight to the recipe:

I made Ezio out of random ML fodder parts that as far as I know include banshee, spiderman and ben rielly. I do know that the head is from a watchmen dr manhatten figure which if painted looks a lot like ezio. for the double colar/tunic and on the arms I used thin white material clothing. The hood/legs/shinpads/body are all sculpted using greenstuff.

his double blades are detatchable using greenstuff and small rare earth magnets. both his blades are from NECA Altair. His cloak/shawl I hand made using string, the same material painted and a modded shoulder pad from ultimate rhino. I also included a picture of my last attempt at Ezio so you could compare.

thanks for looking, please comment!