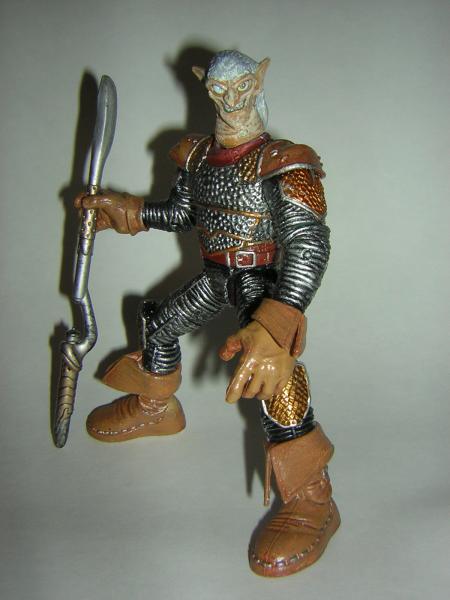 | | |
| --- | --- |
| Custom #: | 2945 |
| Name: | Brocasta |
| Custom Type: | Action Figure |
| Toy Series: | Original |
| Creator: | geki69er |
| Date Added: | June 16, 2007 |
| Base Figure: | Green Goblin |
| Height: | 6.50 inches |
Born from an unknown slave mother and fathered by the demon Yarmir, the Mage known only as Brocasta was trained in the dark arts by his father. Years of learning his craft hardened his soul and strengthened his mind. His first task given to him by Yarmir was to defeat the the trials of sin, the seven demons of sin. Defeating the demons and passing his fathers test granted Brocasta the power of suggestion, he is able to control any living beings mind and do with it as he pleases. He then traveled to the frozen land of Frostmar and laid to waste the capital and retrieved the Staff of Souls, an ancient artifact that was entombed in the cities chapel. With the power to turn the souls of his fallen foes into his own power, Brocasta was now ready to travel to Magmar and take the throne. First he had to produce a scenario to trick the people into needing him. He sent a mountain of a man called only Neco to the Kingdom of Magmar and kill the current king and bring about chaos to the land that he would himself restore order in the kingdom. Little did he know that the warrior Maelstrom had already slew Neco and was asked to become King. Sensing that his plan was undone he took control of Maelstrom and suggested to him a contest to crown the new king. Maelstrom, under the influence of Brocasta, he constructed the tournament and went on his way. Brocasta easily won the contest through his brutal magic and was then crowned king. Many years went by with Brocasta at the throne and Yarmir at his ear biding his time till he was to defeat the only man who bested him, Maelstrom. The day of his attack took the kingdom by surprise and left the townsfolk strewn across the streets in pieces. He let only one able bodied man to bring word to Maelstrom, whom he controlled till the message was given and then turned the man into worms. So now he sits in his kingdom alone awaiting Maelstrom for the battle to end all battles in the land.

This was just a repaint of my green goblin. I took his cool little hat off and sculpted the hair. The staff of souls is just a weapon I picked up at a local flea market in a bag of all sorts of awsome fodder for like 3 bucks. Anyways, thanks for looking and let me know what you think of both the figure and story so far. Anyways, you all have a good day, and till next time. Later.