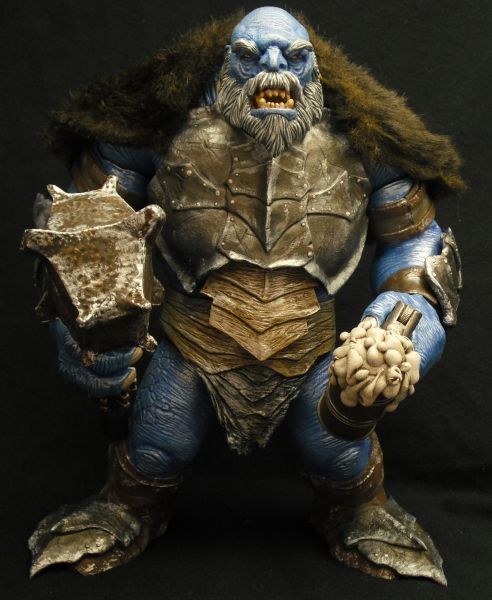 Well, I've had several Thor figs just sitting waiting to be painted for over a month now, I've just been having trouble trying to find time to paint them. However here is the first of my Thor related customs to come!

Basically I've been wanting to make a frost giant for some time now, and so I decided to use a LOTR Armored Troll to do so. He's no particular Frost Giant, just a large, but short mead drinking, Frost Giant.

Base-LOTR Armored Troll (head has fully sculpted nose, beard, eyebrows). Earrings are made from chain and toy bones from a dino. Foam on parts of the arms and foam as well on his feet. The armor was from the original figure but was modified to fit on his arms and feet portions. The fur on his back is from a stuffed bear. Then of course he just had to be repainted. I especially wanted to capture him with a shimmery frosty appearance.

The mead stein was just a quick thing I wanted to throw in with him. Used hot glue to fill up the army barrel and then a flight stand portion for the handle.

Thanks for looking and enjoy!