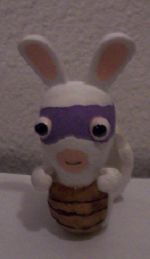 One of three Rabbids that showed up in Ubisoft's Teenage Mutant Ninja Turtles Smash-Up video game, Ninja Rabbid was the only one that made sense to appear in the game. True, ideally there should have been only TMNT characters in the game, but if Ubisoft had to put Rabbids into the game, this should have been the only one.

Ninja Rabbid is, of course, a Rabbid dressed up like a Ninja Turtle. They first appeared as a cameo in Rayman Raving Rabbids 2, shortly after Ubisoft nabbed the TMNT license.

I used an adorable, happy-looking Rabbid as a base, sculpted the plastron from Mighty Putty, and used a Fisher-Price toilet lid for the carapace.