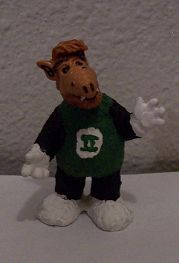 Believe it or not, this is NOT a fan character. Green Lantern ALF actually showed up in the background of an issue of GL. Okay, so it was a lawyer-friendly version in the background of a massive battle scene, but like Akon once said, "Still counts."

Honestly, I'd like to think that he would be better off as an Orange Lantern, and either way he'd try to eat Dex-Starr. "Try" being the keyword. Meep.

He's a wee bit taller than a DC Infinite Heroes scale ALF should be but it doesn't bother me. Thankfully this fig was a very simple sand and paint.