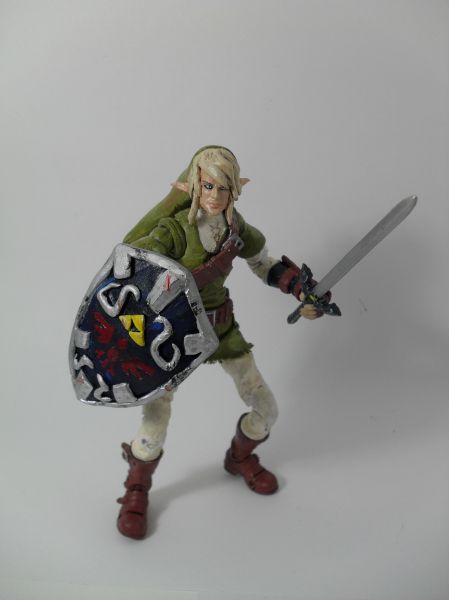 Here's my Link from the Legend of Zelda series. Mostly modeled from the Twilight Princess style. Hopefully everyone knows who Link is, so i don't need to go into his back-story. I've worked on this guy on and off for quite some time. Glad he's finally done enough to post him.

Recipe:
base: ML Cannonball or Cannonbolt or something, trimmed down his jaw
hat & hair are sculpted
tunic bottom is fabric
Master Sword is an obscure fodder sword with sculpted hilt.
Hylian shield is 90% built from scratch.

treasure chest is a cardboard thing from a craft store
clawshot built from scratch
bomb is a bouncy-ball with sculpted fuse
the cucco is some chicken i repainted.

all painted with acrylics. I will say, his eyes are a little extreme... looks like he's auditioning for AFI.

Comments, crits welcome
Thanks for looking!