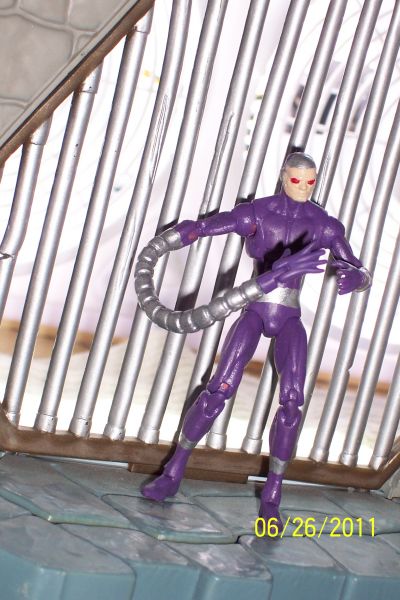 After looking on here and not seeing any Machine Man's in 3.75" scale I decided to give it a try. I used a MU Yellowjacket. Sanded off the wings from his chest, shoulders, and back. Sanded down some of his facial features where his mask comes to his cheeks. Sanded down his antennae. Next after trying 2 different paint schemes I opted for the purple outfit as opposed to his pinkish outfit. I cut off his right hand and attached a tentacle from a Doc Oc McDonald's toy, for his hand I used a Microman hand(they always have too many), for his sword I used a G.I. Joe B.A.T figure and his gun/cannon is from some random Star Wars figure.
I painted him up with some Testor paints and some Glidden Deep Amethyst paint tester.
Any comments or tips are greatly appreciated. I'm also working on a Aaron Stack version of X-51. Enjoy!!