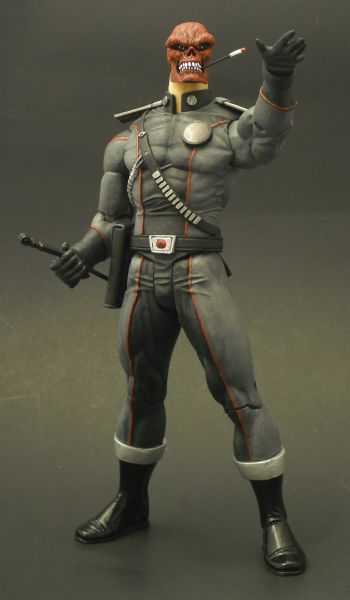 I originally bought this DCD Superman figure just for the Christopher Reeve head so I could do a quick headswap on a DCU Supes body for my own collection. Then I had this body left over with not really too many ideas. I was going through my extra heads on it and Red Skull was the winner! I've been wanting to make one for awhile and with the Cap movie coming soon, I figured there is no better time.

Base-DCD Superman
Head-Redskull
Hands-Boromir, DCD Riddler
Everything else was either sculpt or random fodder.
Completely new paint job (believe it or not,lol) except the boots. I really liked the original colors of the figure, so I kept close to those as I thought it fit ol' skull head.

Fixed the head, cause I didn't like the gaping mouth. Heated it up then glued top and bottom teeth. Cosmic cube was dremmeled down from a IM blast and the long cigarette is a piece of styrene. And my favorite part of all was a Hydra symbol decal I got from a Cap Megabloks kit. It saved so much time, lol.

Thanks for looking!