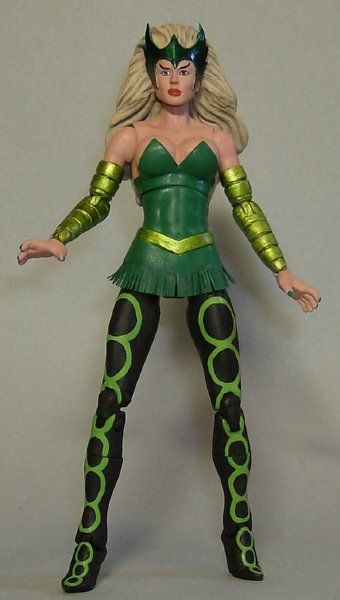 Recipe:
ML 2 pack Skrull Elektra
ML 2 pack Maria Hill head
ML Omega Red hair (lower half)
ML Phoenix lower arms
ML Psylocke hands
ML Spider-Woman lower legs
ML Storm feet
thin plastic
vinyl
Apoxie Sculpt

Enchantress started out as a 2 pack Elektra. I re-sculpted the breasts to give her more cleavage, which I think looks better considering the style and shape of her costume. I replaced the lower arms with ones from an ML6 Phoenix, and used hands from an ML Psylocke. For feet I wanted to use the high heels from Storm, so I replaced the lower legs, from the knee down, with those from Spider-Woman. The head is a Maria Hill head, and the hair is half Omega Red (lower half) and half Apoxie. The headdress is a piece of thin plastic from a plastic folder, and the skirt is vinyl from a 3 ring binder. The armbands and belt were sculpted with Apoxie.