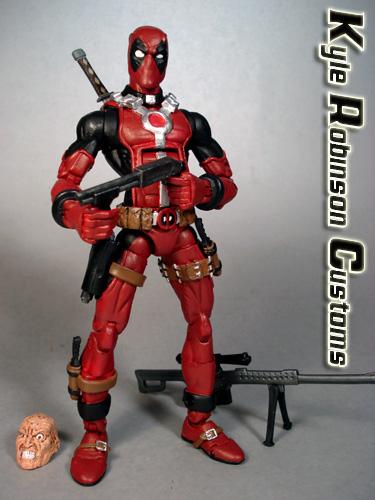 Kyle's Modern Deadpool, D.O.B. 07/01/07
Yeh I know, ANOTHER DEADPOOL? Well.. always a little twist, This time it was requested he be a little darker then my previous ones. Again I made the alt head and loaded him with weapons.

RECIPE:
~ ML Cap Marvel body, ML Moon Knight Hands and Head (with sculpted ninja hood tip). and ML FO Retooled Jigsaw Head (Alt)
~ Coller is from Jigsaw with ML Cable boot buckle glued on
~ Cheast straps are a combination of sculpting, Sinister cape, Cable boot buckles, and bullseye belt pouches.
~ All the Detailed edges around black parts of suit are horizontally shaved off rubber housing from speaker wire.
~ Belt is from FO Jigsaw and buckle is from retooled XMC night crawler belt.
~ scabbard is from XMC Night Crawler
~ Boot knives and pistol from FO Punisher figures. and sinister cape strips.
~ Thigh strap from bullseye.
~ Foot straps are from Bullseye leg straps with bucks glued on from jigsaw boots.