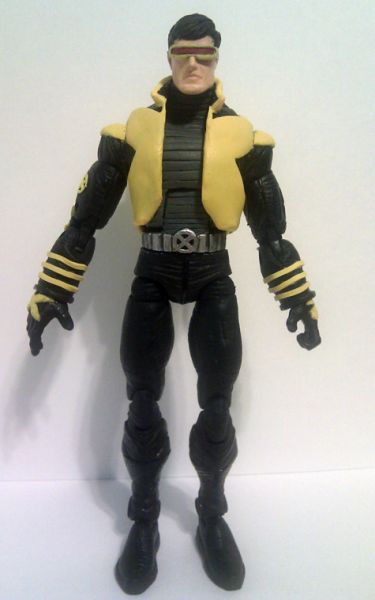 After many years of not being completely satisfied with my first ever custom, I finally got around to redoing it. This is, of course, Cyclops as seen in Grant Morrison's run on New X-Men.

Base: Xorn
Head: Ruby Quartz Armored Cyclops.

Once the promo pictures for Xorn were released, I knew I'd make another attempt at this costume. It's the perfect base for it, most of the work is done! I took off the head and jacket first. I dremeled away Xorn's chains from the chest, with the intention of painting on the lines for the turtleneck thing. But I thought better of it, and decided to sculpt it instead. I also sanded down some of the detail on the hands, to make them look more like gloves. I sculpted the X's on the elbows and gloves as well. The stripes on the sleeves are, you guessed it, rubber bands!! Then I popped the Cyke head on it.

Then came the jacket. I touched up the detail on it, adding black where there should be, and put it back on. But it didn't look good enough for me. So I trimmed the bottom front and sculpted the big X on the jacket to make it look puffy. The jacket isn't flexible at all but I think it looks a lot better. Painted it and there you have it!

Sure, it doesn't light up like my first custom did, but it looks a hell of a lot better!