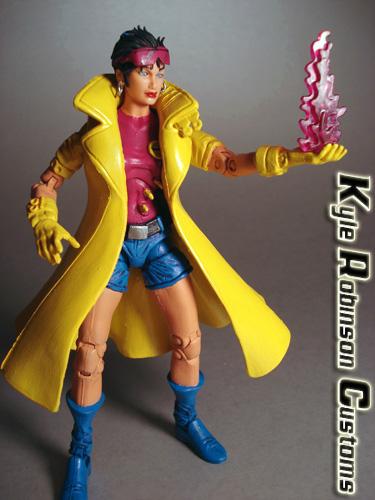 Kyle's CustomCon Summer 2007:
Jim Lee's jubilee, D.O.B. 06/18/07

BLUE TEAM

RECIPE:
~ ML Psylocke Base figure
~ Sculpted hair, boot tops, chest logo, jacket arms, and shorts
~ Belt made from sinister cape strip
~ Goggles from XMC BOP Angel (retooled)
~ Wrist From XMC Cyclops, Hands from ML Spider Woman
~ Ear Transplant from another figure, earings from chain link.
~ Jacket from 90's gambit, removed portion from back to make skinnier, then added detail from XMC Night Crawler belt.
~ Fire Work from left over Piece of 90's Psylocke knife.
~ 3 Details on shirt from XMC Air wolvie arms.

Please visit my web site for WIP shots and More Pics.