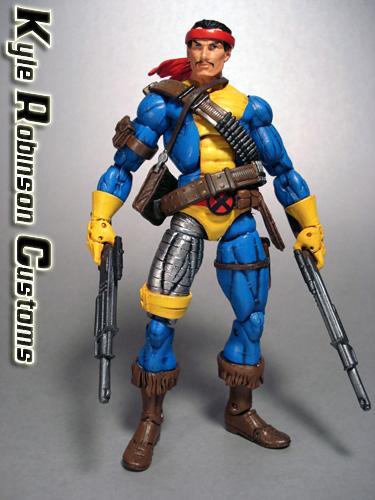 Kyle's CustomCon Summer 2007:
Jim Lee's Forge, D.O.B. 06/18/07

RECIPE:
~ ML Face Off Punisher body
~ Dr. Strange head Retooled
~ Head band made from Long Shot's bag strap and psylocke's sash
~ Sculpted boot tops
~ Metal Leg from DeathlokÂ
~ Right leg strap from sinister cape strips and sculpted detail, left leg pouch from bulls eye
~ Belt made from Sinister cape strips, random pouches, tack head for buckle and rope from task master
~ Belts and bag from fodder box (all removable)
~ Guns from FO punishers.

Please visit my web site for WIP shots and More Pics.