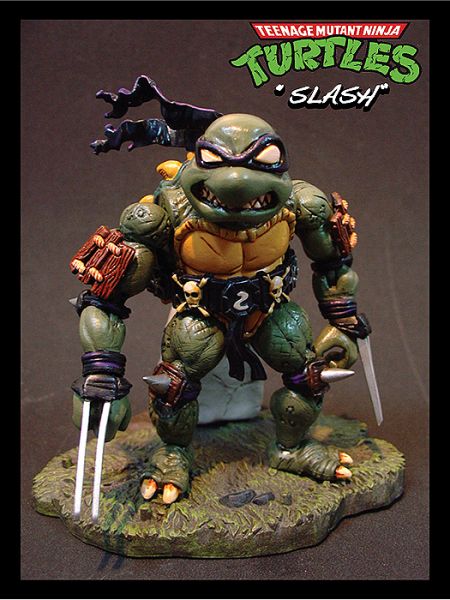 Hi Everybody! This is "custom TMNT SLASH" which made from classic 1990 slash's body. Sculpted muscles on arms and legs, add ball joint at head and two side of wrists. This Slash look simple but it can move with more flexible action post and new head sculpt (comic version). I love classic TMNT figure so I want to make it more interesting. Hopefully that everybody will love this SLASH same as me.

Thank you!

Slash has demonstrated super-strength, invulnerability, and skills with a kitana, bo, sai, and nunchuku, meaning he is adept with every weapon that the TMNT wield, as well as Pantera claws. He's 5th TMNT member, Slash died when he refused to leave Maligna's hive which was crashing into the sun in order to make sure Maligna and Null didn't escape.

Recipe:
Head- Sculpted with Epoxy putty.
Hands-TMNT Leo.
Headband-Solid Snake.
Body, Belt, Armor- 1990 TMNT Slash
Arms, Legs- ML Mysterio
Hand painted.