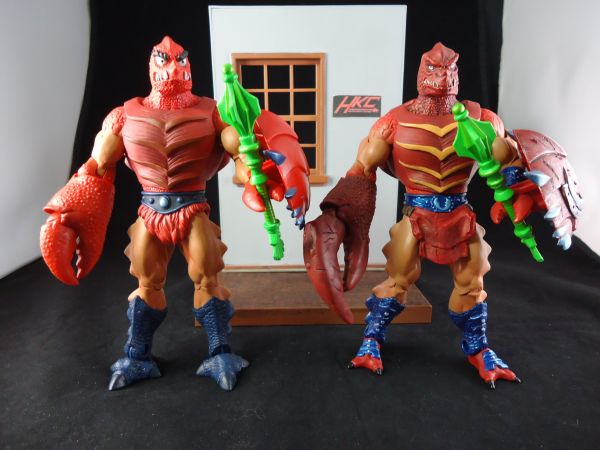 The classics line pays homage to the vintage line however, many fans were not happy with the way Clawful was released, so i felt a little improvement was needed:

-New more menacing head from the 200X staction that does not look like a cartoon clown, instead he now looks like a much more menacing evil warrior!

-New crab-like shell sculpt on the back inspired in the looks of the staction.

-New belt and loincloth featuring Clawful's tribal logo on the belt

-MUCH BIGGER CLAW!! he is the warrior with the "grip of evil" but with that flimsy small claw he came with, he wasn't going anywhere, so I sculpted a much bigger and menacing claw that still articulates and can hold things.

-Newly designed feet, to better look like the staction, and also has newly sculpted shin guards. The paint used to detail the white sculpts, was a pearlescent white to resemble pearls.

-Combat worn shield with "Tribal" logo. It can be attached to clawful's left hand

-Grittier, darker new paint job with several drybrushes for more depth and realistic looks (he even has some dripping saliva oozing from his mouth!!)

The figure was then repackaged with the tradittional HKC logo on the box.
There it is folks, See you next week!