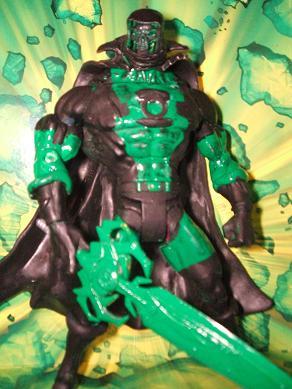 This is the Lantern that other Corps memebers see as they die. Kon'tel was the corps member that defended Sector 11234. That was before he died as the Systems sun went nova. Kn'tel used his ring to protect himself but the radiation passed through him and loosed his soul from his body leaving him a spector of himself. Kon' is only visable to Lanterns as they die. Niether Alive or dead this Lantern is there to ferry his Corps members along to their graves.

*** This was inspired by the Black Flash, who only shows up as a sppedster dies***
DCSH Bizzaro and a Skeletor head.