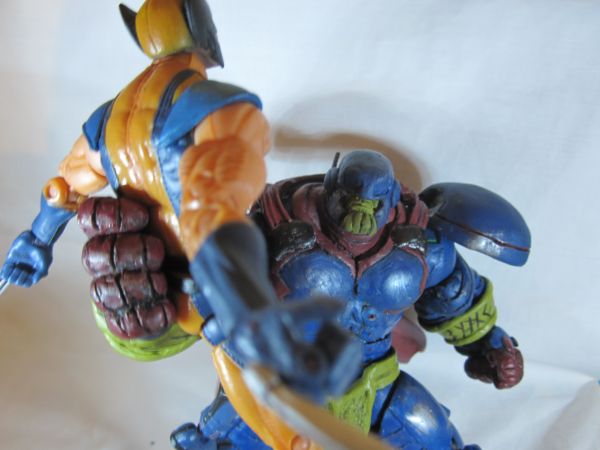 Titannus first appeared in Marvels Team-Up. A Skrull that lacks the ability to shapeshift, Titannus was sent to a Super Skrull Program to further augment his abilities to superhuman physique.

After he gained the right strength, he bit the hands that fed him and turn on other fellow Skrull. Escaping and landing in a foreign planet, Titannus slowly rose in power through trickery and betrayal. He ruled with an iron fist and sent his men to conquer other planets. He eventually was brainwashed by the Trellions as their agent. Brainwashing did not hinder his ambition as he kidnap the Trellion princess and eventually destroyed most of Tokyo on Earth. Gathered by Dr. Strange, Earth's mightiest heroes prepare to do battle with an unstoppable foe.

This is basically a very heavily modded Planet Hulk with Green Lantern Classics Stel feet.
I carved out extra Stel armor parts from the legs, shaved off Hulk's calf muscles, and transplant them onto Hulk. Drilled holes on shoulders, added Revoltech joints, and shaped gashapon shells into shoulder armors.

Add DC Direct Despero's cape, Maestro's loincloth to finish up the whole look.