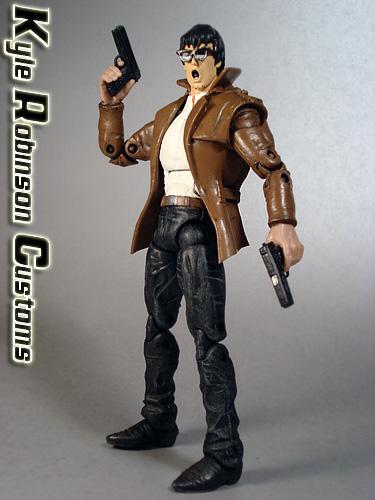 Kyle's Bunji Kugashira, D.O.B. 07/22/07

So here the latest to what will so be my Gungrave set. Its Bunji Kugashira, Millenias Top sweeper (after Brandon was gone of course). He is Protege to Brandon Heat. This custom is one of my favorites yet, not cause it was hard but based on pure coolness factor. I am real happy with the style and proportions.

Expect these next:
Harry Mcdowell
Bob Poundmax
Balladbird Lee
Bear Walken
and possibly Maria


RECIPE:
~ ML Longshot base.
~ lower legs from x2 wolverine (streetfight?)
~ Jacket from XMC gambit retooled. Jacket coller from longshot
~ SOTA Feilong Angry head
~ Glasses from DCSH Clark Kent, as well as hands
~ Sculpted lower arm sleeves, and fleece coller
~ Guns from Deadpool/punisher
~ painted with vallejo GC. cold grey drybrush highlight on paints and hair, Jacket is charred brown base with beasty brown heavy drybush.