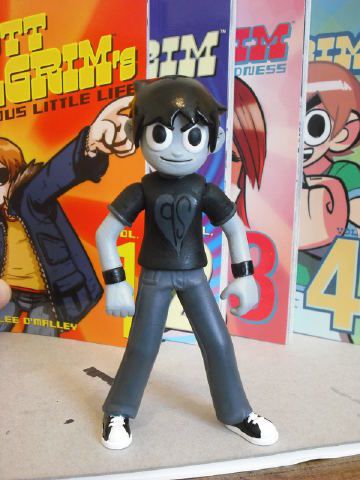 Nega Scott is Scott Pilgrim's evil alter ego. The personification of Scott's faults and flaws. Scott soon learns that running away and fighting them doesn't work and accepting and learning to live with one's dark side is part of growing up. I was let down by the face sculpt on the purple shirt Scott Pilgrim figure (the toothy smile made him look brain damaged) so I thought I would use it to make a custom Nega Scott. Especially after playing the Scott Pilgrim game
I used superfine Milliput to fill in the open mouth, then used the moistened, pointy end of a kebab skewer (that I smoothed down) and dragged it along the top of the original mouth, to get the evil smirk. And to make the skull sword pommel, which looks a bit lame, due to a lack of sculpting tools. Then I painted the figure in monochrome acrylics.

Hair- tamiya black
skin- tamiya royal light gray
t-shirt (main) - tamiya flat black
t-shirt (rings and heart) tamiya german gray
jeans- tamiya dark gray


I used tamiya black to do the sides of the shoes, to look more like converse, I drew the heart and reversed "SP" logo with a black fineline gundam marker Then went around the heart with flat black) and I used citadel liche purple and a spare foil decepticon sticker (G1 starscream) to repaint the bass guitar to look more like the bass I'm learning to play...badly.