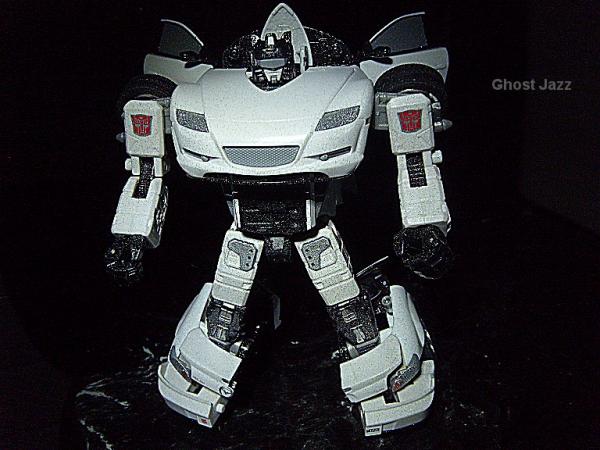 Do all robots go to heaven ? YUP ! ....or...ever heard of a ghost car ?
Shortly after the Transformers movie in 1986 the cartoon series continued where the movie left off. One character in particular, Starscream, came back as a GHOST ! Inspiration for this custom came from Starscream's ghost character.
Killed in battle, due to numerous fatal wounds, heroic Autobot warrior Jazz has been blessed to come back as a spirit to unconsciously warn his living comrades of impending & imminent attacks by the evil Decepticons. All Transformers have a soul or "spark" created long ago deep within their home planet of Cybertron(aka Primus). The creation matrix brings them to life in mechanoid form.
.....till all are one !

Please note this figure was extremely hard to photograph, details do not show in photos.
Also keep in mind what Doc. wrote about what supernatural "means".
Car mode is a Mazda RX-8.
Thanks & enjoy ! .... hope I didn't scare anyone...lol.