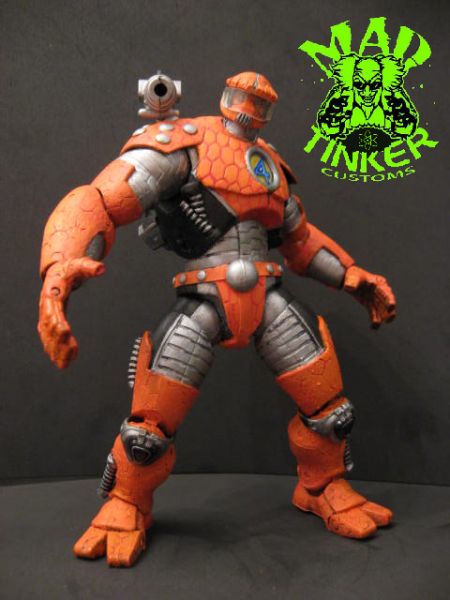 | | |
| --- | --- |
| Custom #: | 34319 |
| Name: | Mecha-Thing Alternate Reality Ben Grimm |
| Custom Type: | Action Figure |
| Toy Series: | Marvel Legends |
| Creator: | Madtinker76 |
| Date Added: | November 15, 2011 |
| Base Figure: | Spiderman Classics Buzzing Beetle |
| Height: | 8.00 inches |
Buzzing Beetle from head to toe with various fodder for backpack and knee pads and such. re-sculpted head to bring more the THING into the design.
I know at one time or more, Ben Grimm has reverted back to human form and has worn a mechanical suit. SO inspired by that I wrote a little narrative to go along with this custom.

In this reality Captain Ben Grimm was the pilot of the failed space mission, Baxter IV. This particular mission was a joint effort between Dr. Reed Richards and Tony Stark of Stark Enterprises. The objective of the crew was to successfully reach Mars and initiate construction of the first settlement for later human colonization. The crew would use four exoskeletons (X04) designed by Stark Enterprises to work in the hostile Martian environment. Not only were these "exoskeletons" built to provide extensive shielding from the elements and intense solar radiation that the Mars mission would expose the crew to, they were built to augment the strength of the wearer over hundred times to make the need for conventional construction equipment unnecessary.
Shortly after liftoff the spacecraft was hit by a missile from an unknown source (later to revealed originating from Latveria)*. As the wing was ripped from the body of the space ship, Captain Grimm ejected the rest of the crew to safety and managed to steer the broken ship away from the crowd of spectators on hand to watch the launch, resulting in his apparent demise. However, as Dr. Reed Richards approached the twisted metal of the completely decimated spacecraft, he found the charred and broken body of his closest friend.
Within minutes the hero was airlifted to the Baxter Building for emergency medical treatment. There Dr. Richards and a team of the most advanced medical minds worked tirelessly to save Captain Grimm from death, but Ben's life was slipping quickly through their fingers.
In a last ditch effort to save Ben, Tony Stark reconfigured the only remaining exoskeleton, a prototype of the XO4 construction suits that were to be used to build the Martian settlement, to sustain Captain Grimm's body until such time an alternative means of saving his life could be found.
Captain Grimm regained consciousness to find himself completely encased in a hulking body of armored metal plates and bolts. Unable to take off this armored suit, Ben Grimm is forced to live the rest of his life in this mechanical body. Only Ben's blue eyes remain exposed to witness the world around him. A world he can only participate in as this iron monster, this "mechanical thing".

*Dr. Victor Von Doom and Obadiah Stane International were working on a similar project called Phobos and were competing secretly with the Baxter program to gain the first foothold on Mars.