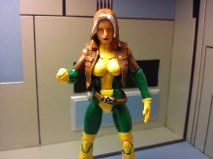 head-cover girl roc with trimmed up hair
body-storm mu secret wars 2pack that came w nightcrawler. belt was trimmed up
Not sure why they havent made a rogue yet but I thought I'd give it a shot. I was going for the jim lee rogue minus the 80's hair. You may notice Gambit is sharing a little spotlight. mainly, cuz he was the first fig I posted and I got feedback that I should have got some closer pics. I will prob have him in alot of the marvel fig customs I post but be may not be as snuggly with all of them. hope you like both figures.