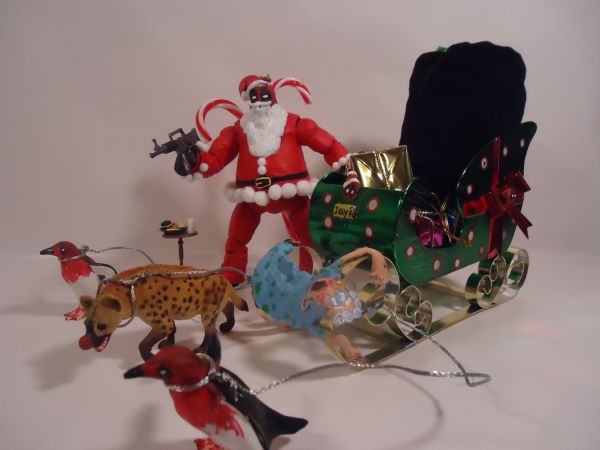 On slasher, on cancer, on lancer, on robert nixon, on vomet, on stupid, on pawner, on blister. Twas the night before christmas and a tired may parker went out to her front yard. It was midnight and she wanted to view the starry skies above. Not a creature was stirring not even a spider. . . . Man. Somewhere overhead a deapool was steering a sleigh filled to the brim with empty egg nog cartons/ guided by two penguins and a hyena. Sppplllaaattt! For the next few days aunt may was missing.

how the figure was made:
kingpin body with sculpted beard face and hat/ even has a string with a knot tied around his head.
scratch sculpted aunt may on the sleigh.
penguins(dp hand painted them to look like himself).
candy cane swords and a toy bag.
scratch sculpted dp sign and license plate which reads "jolly ol".
table with cookies and milk.
hyena is rudolph.

thank you!