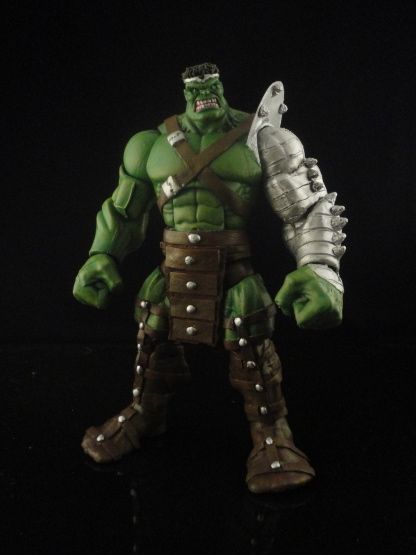 This is the figure that I made for Fwooshs secret santa '11. It went to Levit, who is one of my personal favorite customizers, who also happens to be someone I've lifted a recipe off of more than once (i'm looking at you Deadpool made from Wolverine and Cable made from Wraarl). Anyways, the way the exchange goes is everyone makes a list of five or more characters they'd like a custom of, and then the moderator randomly sends the list to someone else. I ended up with a really cool Solomon Kane, but enough of that, onto the figure.

I was kind of underwhelmed with how it turned out. Levit had suggested a recipe used by Fwoosh member Grownnerd to make it, and I had actually gotten to the painting phase, but then my house was broken into and a ton of my stuff got stolen, including the WIP and a ton of my fodder. Who steals pieces of action figures? Anyways, that plus the stuff i mentioned in Loki's post turned off to the hobby for almost two months since i didn't have the cash to rebuild my stockpile of parts, and I ended up getting rid of almost all the rest of my fodder. In the end I decided it wouldn't be fair for me to just drop out, so i tried to make a decent WW Hulk with the only Hulk figure i had left. I think its pretty easy to tell that I didn't get the hang of how to go about the banded arm until I had already done his shoulder and biceps.

Anyways, it came out alright, but I'm not the most proud of it. I only took one picture of it before sending it off, so the two with the blue background were taken by Levit, along with the really cool Jean Grey he made for someone.