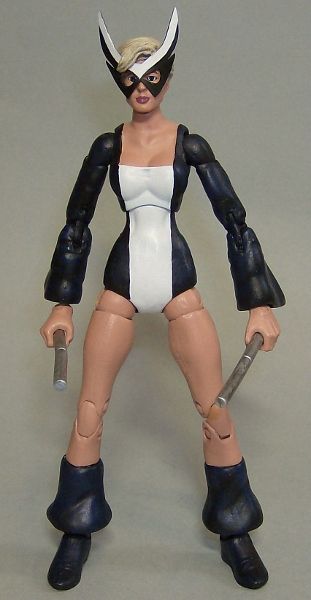 Recipe:
Marvel Legends Wasp body
Marvel Legends Psylocke feet
Marvel Legends 2 pack Elektra lower arms
Marvel Legends Maria Hill head
Marvel Legends Gambit staff
Marvel Legends Longshot hair
Thin plastic
Apoxie Sculpt

Seeing all the modern Mockingbird's that have been done recently, I got in the mood to make a classic version. The base body is a Marvel Legends Wasp. I replaced the feet with casts of Psylocke's feet. I needed hands that could hold her staves, so I replaced the lower arms with those from a 2 pack Elektra. The head is from a Maria Hill figure, with the hair re-sculpted, and a ponytail made from part of Longshot's hair. The mask is thin plastic. The boot cuffs, waist, sleeves, and the top edge of her costume are all sculpted. Finally, her staves were cut from Gambit's staff.