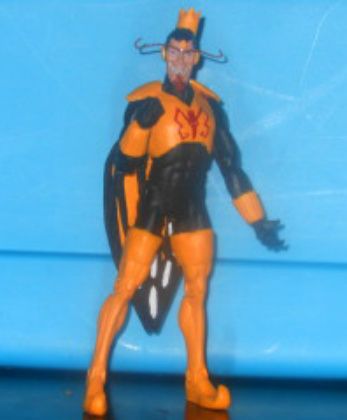 Ready to unleash Lepidoptera terror, the Monarch came about when I asked myself the age-old question, "what the heck can I do with this Black Lantern figure I didn't want but had to buy for the CnC, and this Eclipso head that nobody seems to want?"

And thus began Project: Iron Butterfly.

So, his body is a DCUC Black Lantern Abin-Sur with an Eclipso head. The wings are made of foam and screwed into his back. The eyebrows are made from a pipe-cleaner where I burned off all the fuzz, then washed, then painted the metal that remained. The rest (guantlets, crown, beard, chest-plate, leggings are all sculpted. Hope you guys like him. If not, prepared to be thoroughly arched!

"MINIONS!!!!"