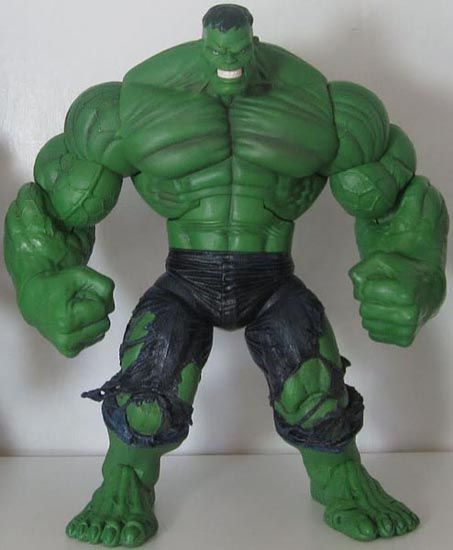 I made this based on the art of Dale Keown who drew Hulk with massive muscles and also the art of Mike Deodato whose Hulk had a darker shading and big toothy grin.

The base figure is Pitt. Head is from a Hulk Pez candy dispenser. I used epoxy putty but still maintained full head articulation. The fists and forearms are from a 2003 rotocast Hulk. I kept the biceps and elbows of the Pitt figure and original pants color. I did very minimal painting, a dark shade of green only on the skin parts.

I know I still have to get around to trimming more of the toe nails.

This is my first custom on figurerealm. I started my customs last year on another customs forum but now that I just joined the Realm, I'll transfer them here too. All comments and feedback are welcome.

Comicustoms! and raybot helped me out a whole lot by making custom Hulks based on this exact recipe for the forearm and fist parts. Thanks a lot guys!!!