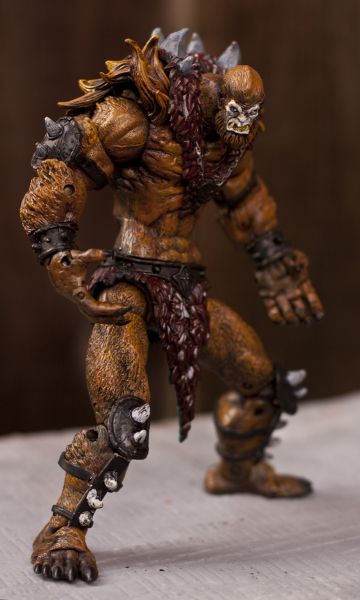 The definition of vile is physically repulsive or morally bad. When I heard of the Vile Volition's II contest I knew I wanted to make the most physically repulsive and morally bad character I could think of ...Beast man. Beast man has always had a bad rap. Most of the time he is portrayed as Skeletor's whipping boy. Even in plastic form he really isn't made fearsome. So I made a feral, monstrous,and deformed version of him. Along with a fierce look I wanted to emphasize his twisted physique. I wanted him to have a huge hunched back demeanor and look as if he would be really tall if he stretched to his full height. I thought about a lot of different base figures for Beasty and decided on the SMC Venom. I liked that Venom figure's neck extended out and help accentuate his hunched shoulders. But the Venom torso had a really narrow waist so I dremeled out the original ab section from the 200X Beast man and molded it to fit the Venom torso. 200X Beast man's waist fit perfectly on ML Sasquatch's pelvis. I added ML Beast's arms and lower legs and his body was complete. I added the back piece from the DCU Creeper to make Beast man have a long shagging mane.
As far as for painting, I wanted his costume to stand out so I painted the body a lighter brown. His harness and loin cloth was painted red in homage to his original cartoon color.
Thank you all for taking the time to look and comment. All insights are appreciated.