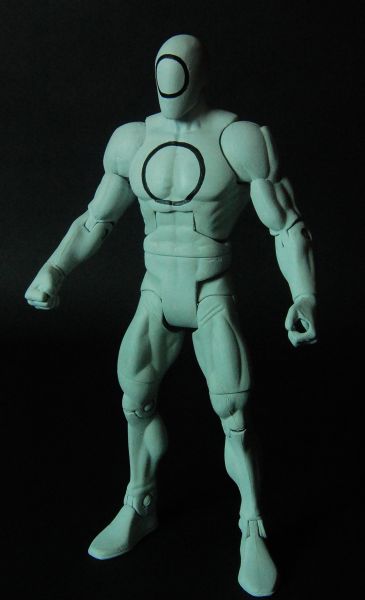 Hey guys!

This is another character I'm not really familiar with. I discovered him while flipping through the Official Marvel Handbook and thought he looked like he'd be pretty fun and easy to make. He's apparently an X-Men character and an agent of something called the Mutant Liberation Front, or MLF, which is an unfortunate title when you pronounce the letters. Oh well.

As you might expect, Zero was pretty simple to make. I used a DCUC Power Ring from Crime Syndicate 5-pack as a base figure. I sliced off the power-ringed hand and replaced it with the fist from the DCUC 16 Riddler. The head was sanded down and sculpted over. I had originally painted this guy solid white, but it just looked look boring. I tried out a few washes of light grey and dry-brushes of diluted silver over it. I don't know, I'm not really sure I like it or not. Ah, well. I painted the "zeroes" on the chest and face by hand.

In the end, I don't love this custom, but he was a good exercise in both precision painting (on the zeroes), and painting in solid white (which, let's be honest, nobody's good at.) What do you all think?