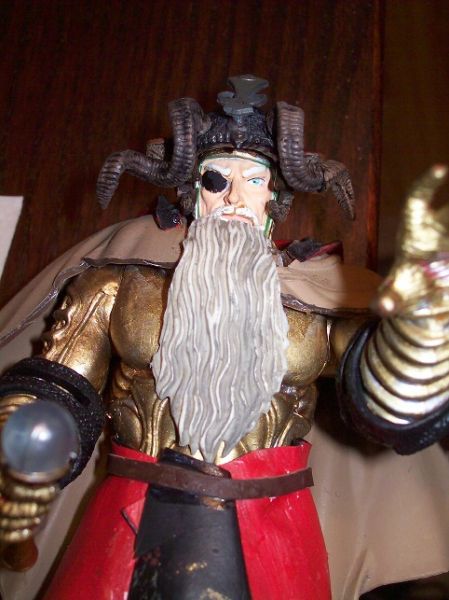 Here is my second attempt at Odin, I think it came out much better than my first. The base figure is some DC guy that I had previously customised into my Isildur who also came out bad. I started with a complete repaint of a weathered Gold, then continued to paint details and the face. Then I added all of his capes his patch his helmet, his scepter so on and so forth. Here is my recipe

Skirt and loincloth- painted LOTR fodder
Belt- painted elastic band
Elbow guards- WWE
Cloak LOTR fodder
Cape LOTR fodder
Beard LOTR Saruman hair
Eyepatch sculpted
Helmet retooled spawn helmet
Horns retooled Narnia
Scepter- Star Wars
Spear- Spawn

He is actually one of my favorite customs that I have done so far, and I hope you like him too. Thanks for looking!!