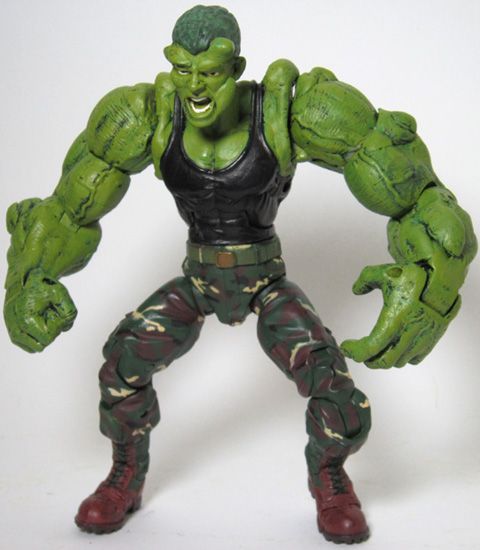 Codename: FLUX
Mission: Annihilate the Hulk

Here is one of the lesser known of the Hulk's enemies. He appeared in Hulk #17 and in the 2003 video game. I added pics of the inside pages from the comic book where he made his first appearance.

U.S. Army Private Tibbets was a soldier exposed to gamma radiation by the military to turn him into a weapon against the Hulk. Although he matched the Hulk's strength, his transformations made him appear freakish and disfigured. He also suffered psychological problems which made him unstable.

Recipe:
Head - Sandman from build a figure Spider-man movie wave
Body- SOTA SF Guile
Arms - Hulk, roaring one from 2003 movie

I was inspired by fastfreddie's past customs, specifically his Hulk's Greatest Hits. Thanks to you fastfreddie! So I'm starting my own line I'll call The HULK VS. Line.